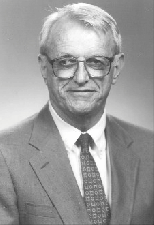 James F. (Jake) Jakobsen served as Associate Dean of the Graduate College from 1968 until his retirement in 1998. He served as the Graduate Student Senate (GSS) liaison throughout his career as Associate Dean, assiduously attending meetings and developing trust through insightful but sympathetic advice. In 2001, we wanted to honor his long-standing commitment to GSS and to graduate student education by renaming the Graduate Forum, the James F. Jakobsen Graduate Forum.
In addition to his work with the GSS, Dean Jakobsen helped to recruit underserved student populations, women and international students, and played an instrumental role in the establishment of several awards and fellowships. These include the D.C. Spriestersbach Distinguished Dissertation Awards, the Seashore/Ballard Dissertation Fellowships, the Iowa Arts Fellowships, the Iowa presidential Fellowships, the T. Anne Cleary International Research Fellowships, and the Graduate Opportunity Fellowships.
A native of Chicago, Dean Jakobsen began working at The University of Iowa as an instructor in the math department in 1959 after earning a Ph.D. that same year from the University of Missouri. He became an assistant professor in 1961 and was promoted to associate professor in 1964. A year later he became the department's associate chairman. He assumed his position in the graduate college in 1968.
Dr. Jakobsen passed away in February of 2016. We honored his dedication to graduate education and graduate research with the James F. Jakobsen Memorial Conference.
Over the years, the conference had developed and been successful, but in September 2021 it was decided to shift the focus to a series of events throughout the year focused on graduate student professional development. We still wanted to honor the history and effort that Dr. Jakobsen and his family have out into the conference and advancing graduate education at the University of Iowa and thus in collaboration with the Graduate College the Jakobsen Graduate Development Series was formed.